Online rummy is the new favorite card game in the internet of games. The excitement, passion and the pursuit of entertainment today has called attention to India's expert card players who believe to win with their skills. Online rummy tournaments offer players like these to showcase their talent live among a nationwide pool of players and enjoy credibility for the same.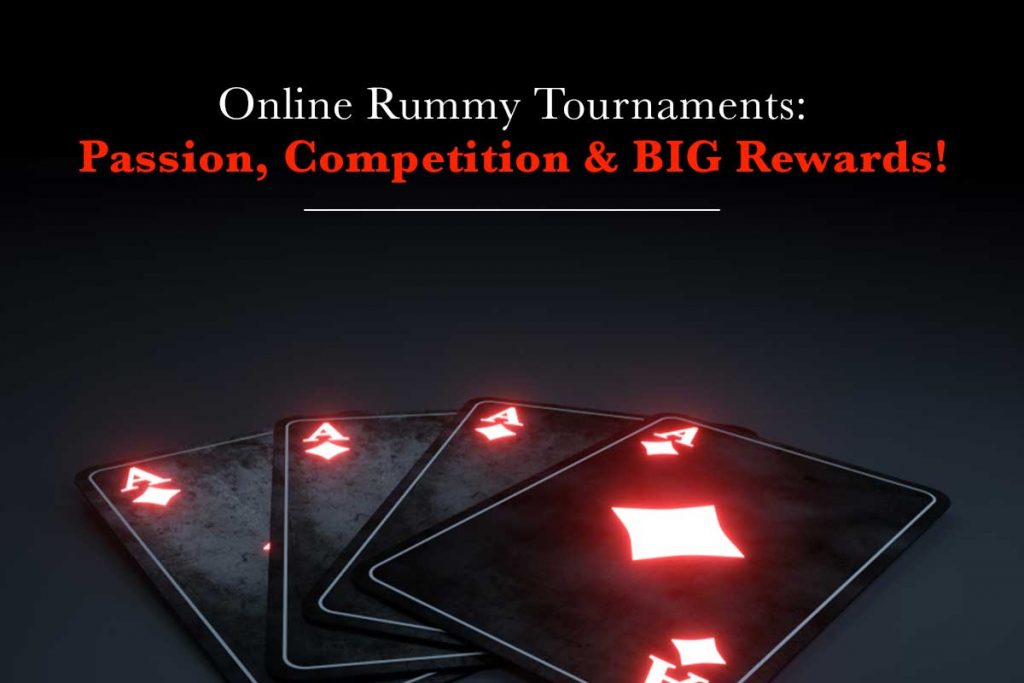 The popularity of online rummy tournaments also owes to the fact how online rummy sites have offered a new platform to form a collective community of like-minded players who love to compete and interact socially, share their passion and enjoy a game or two together.
Besides, the standalone opportunity to win real money merely through your skills is groundbreaking and attractive enough to pull a dedicated crowd of rummy fans to the tables of online rummy tournaments today.
So, what else do we need to know if one decides to contest their skills in rummy tournaments in India's top online rummy sites? Let's find out.
Online rummy tournaments: Rules, Formats, Gameplay
Online rummy tournaments are a breath of fresh air for traditional and new rummy fans alike who wish to taste glory and enjoy some stellar entertainment and win some real money along the way. So, here are the important features of this format of game for you to get started without hesitation.
Rummy tournaments are played according to a fixed schedule that is pre-decided by online rummy sites. Players need to register for the same usually days or weeks before the tournament begins.
Online rummy tournaments are played typically in fixed levels or rounds. The winner is decided based on the number of points scored by each player at the end of all levels.
Players with maximum number of points are eliminated automatically on each level and only players with the least number of points reach the final round.
Some rummy tournaments also feature leaderboard rewards to motivate and incentive players for their efforts with bonus money and cash prizes. So, even if you don't end up as the winner, you still receive recognition through various incentives.
Players can participate in online rummy tournaments through direct fixed buy-ins. Sometimes, free tournament tickets are also offered through unique deposit codes.
Do note the drop points in online rummy tournaments. Every online rummy site may have different criteria for dropping points at various stages in the tournament. Do take note of them before you register for one.
However, the first drop usually costs you 20/25 points, middle drop costs 40/45 points and a full drop is consistent across all tournaments and shall cost a player 80 points.
Every tournament features a collective prize pool that is typically formed by the buy-ins offered by the participants in the game.
Online rummy sites feature 4-6 players in one table and as players get eliminated after each round, the tables are rearranged to accommodate an even number of remaining players in the next table.
Rummy tournaments can be of different kinds. Online rummy sites in India typically feature three categories of rummy tournaments- free entry, cash tournaments and special tournaments.
Free entry tournaments are free for players of all degrees and do not require any entry fees and may contain bonus rewards for winning players.
Cash tournaments are played for a certain buy-in and the same contribute to the overall prize pool of the tournament.
Special rummy tournaments are held by online rummy sites from time to time on special occasions with interesting rewards and attractive prize pools.
These are possibly all the vital points that rummy players must acknowledge if they wish to play online rummy tournaments of any nature. Moving on, let's find a portal that offers some relevant opportunities to players to enjoy just competition and win real money in exchange for their noteworthy skills.
RummyBaazi: Play rummy tournaments to win BIG every day
One of India's reputed rummy sites, RummyBaazi is well known for its stellar range of tournaments and cash games hosted live throughout the year. Very affordable buy-ins, huge prize pools and a top notch Loyalty Rewards program are some of its highest selling points.
So, here are some trending online rummy tournaments running live this October on RummyBaazi."
| | | | | |
| --- | --- | --- | --- | --- |
| Rummy tournament | Buy-in | Prize pool | Date & Time | Deposit Code |
| 25K Depositor's Freeroll | INR 200 | 25k | Daily, 10PM | Use code, "Daily25K" to get free ticket |
| 1LAC Sunday Special | INR 500 | 1LAC | Every Sunday, 8PM | Use code "Sunlakhpati" to get free ticket |
| 10K RP Tournament | 10 Reward Points (can be earned in cash games) | 10K | Mon-Sat, 8PM | None |
| Free Entry tournaments | Free | 3K | Daily, 9AM, 12PM, 3PM, 6PM | None |
As you may gather, the opportunities are rampant online and interested players and rummy fans alike are free to make use of these amazing opportunities to entertain themselves and gain recognition in the online rummy community and also win some good money on the go! All the best.