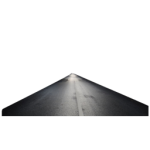 All homeowners are looking for an excellent curb appeal. Not just to enjoy the way their territory looks but to sell it for the maximum amount in the future. One of the things many people contemplate is the driveway material.
The most common choices are asphalt and concrete. We collected several expert opinions about the asphalt driveway. Let's check out pros and cons.
Advantages of An Asphalt Driveway
Let's start with some advantages of an asphalt pavement.
1. Aesthetic Appeal
Asphalt driveways are black and smooth. They look great with any house design. Meanwhile, they don't draw the onlooker's attention away from the yard scenery or the façade decoration, thus making it an all-purpose pavement.
2. Low Cost
Compared to other popular pavement options, such as concrete, asphalt is moderately priced. The asphalt pavement costs between $3 and $4 per square foot. Concrete pavement can go up to $10 per square foot. Gravel driveway costs under $2 per square foot, but it's not as aesthetically appealing and reliable as asphalt.
3. Quick Repairs
While asphalt may not be as durable as concrete, it's easy to repair. As a result, the maintenance is cheap. Local paving contractors can deal with asphalt pavement within hours without putting your driveway out of order for a long time.
4.Longevity
If maintained properly, asphalt driveways can last for up to two decades. Even if the initial investment seems formidable, the ROI is impressive. The key to the long life of an asphalt driveway is initial paving effort and timely repairs.
5. Quick Curing
One of the best parts about choosing an asphalt driveway is that you can use it almost immediately. After paving is done, you only need to wait a few hours for the asphalt to cure. For comparison, concrete driveways require 7 days of rest before you can start driving over them.
Disadvantages of An Asphalt Driveway
While asphalt is one of the most common and convenient driveway pavements, it has several disadvantages.
1. Susceptible To Weather
Asphalt is a good choice for areas with a mild climate. However, when it gets too hot, the pavement becomes soft, which makes it prone to damage. Even if a small crack appears on asphalt and some water seeps through, it may turn into an irreparable pothole.
Drastic weather changes make asphalt shrink and expand, resulting in holes and cracks.
2. Easy To Damage
Asphalt is easy to damage since the material is rather soft. The good part is that it's easier to repair as well. Such driveways require excellent maintenance to serve for many years. For comparison, a concrete driveway usually needs twice as less maintenance.
3. Damaged by Gasoline Leaks
You need to be very careful with the vehicles that drive over the asphalt pavement. While oil leaks won't leave traces if you clean them up timely, gasoline leaks can damage the pavement. Cleaning up oil and gasoline leaks may be complicated.
Overall, an asphalt driveway is an excellent choice for the majority of homeowners. It's moderately priced, long-lasting, and easy to maintain.