Recently Google+ updated with a new feature which shows that how many times your profile has been viewed.


Why Should You Remove Google+ Profile Views?
The main reason to remove your Google+ profile might be the reason that you do not have much profile views. But this not might be you also do not want to share it with another person.
So if you want to disable it follow the steps.

You can view my profile here that how profile views looks. Check It Out
Hover your mouse on profile on left side of your page



Now click settings you will find it on the last tab.

Now a new page will open. Scroll to the bottom of the page and uncheck the "Show how many times your profile and content have been viewed."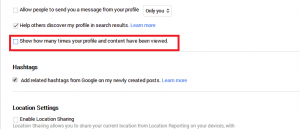 When you will uncheck it your profile settings will auto save. Now go back to your profile and you will find that Profile Views feature is now turned off.